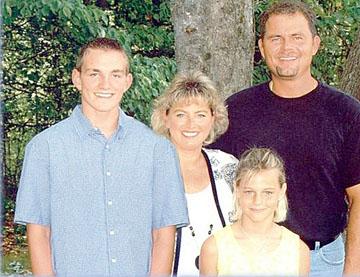 Hayes Kent, pictured here, with his parents, Scott and Beth, and his sister, Bethany, died in January 2002 in a single-car accident. An annual Bolton fundraiser tournament now bears his name. Courtesy photo
Bolton tourney honors late teen
by Mike O'Kelly
Six years ago, Bill Stevenson began a basketball tournament to honor an American who touched many lives: Martin Luther King Jr.
The tournament played around the holiday observing King's birthday was a way to help raise money for the Bolton High School baseball team.

Last year, Stevenson made the decision to rename the tournament to honor an Arlington youth who touched many lives in the community.

The tournament coordinator changed the name of the contest to the Hayes Kent Memorial Basketball Tournament, after Todd "Hayes" Kent, an area teenager who died in a single-car accident on Jan. 27, 2002.

"It was a great feeling when they renamed the tournament in his honor," Todd's mother Beth Hall said. "It makes you realize how important he was to those he touched.

"He could walk in a room and just smile," she recalled. "He lit up the room. He was so outgoing and kind. He was well-mannered. He was kind-hearted and good to others."
Todd Kent had an impact on numerous lives in his 16 years of living. He was a member of the Bolton Wildcats baseball and basketball teams. With his father, Scott Hall, he was an assistant coach for a recreation league team, and he was a mentor to his younger sister Bethany Hall.

"He taught me how to shoot and dribble," Bethany recalled. "He taught me how to dribble in between my legs.

"I just think he was really good at basketball," she added. "I'm just trying to go out there and make him proud."

Bethany is a member of the Arlington Tigers basketball team. While at Bolton, her brother was a scrappy type of player on the hardwood.
"On the basketball court, he played forward," Todd's father recalled. "He hustled. He knew the game. I'd coached him since he was 4 or 5 years old, until he went to high school.

"He helped me coach," he added. "He helped me coach (Bethany) when she was younger. Todd said that, when he got out of school, he wanted to be an agent for the U.S. Secret Service, which guards the President of the United States. But in the meantime, he was working on his game on the diamond.

"He wasn't an all-star ballplayer," Scott noted. "He gave it all that he had. They always knew he was going to do the best he could do.

"As an all-around athlete, I would say he was average," his father added. "He played shortstop in baseball. He had an excellent glove, but his hitting was pitiful."

Although Todd wasn't always successful on the diamond, he seemed to have achievements in touching lives.

"It's hard to explain," Scott said. "We never really knew all the people he personally knew to make an impact on them. He made an impact on a lot of people.

It wasn't one of those things that somebody just heard of his name. So many people knew him."

"It helps me," Beth said of participating in the tournament. "I like knowing that others are still keeping his memory alive and that he is not forgotten."

Right after Todd died, his fellow players on the recreation basketball team wanted to show him they still had him in their hearts.

"When the accident happened, the season was still going on," Scott recalled. "All the girls he helped me coach when we had to finish out the season, we were right there in a tournament at the time. All the girls said they were going to win it for Hayes. They ended up winning the championship that year. He touched all of them."

The Halls said they hope Stevenson and the tournament coordinators are able to make the event grow, and to start a scholarship fund to benefit Bolton basketball and baseball players. Scott said the tournament is a great way to remember the son he loved.

"I would like them to know who he was, instead of just being the name of a tournament," he said. "I think Bolton is doing a great job of that. Bill Stevenson puts a lot into it.

"I'm grateful to Bolton and the Booster Club," Scott added. "It makes you proud that your son touched so many people.

"Their willingness to do something like this with his name, it makes you proud. It makes you as proud as if he was still here playing a ball game, and him scoring 50 points."

The Second Annual Hayes Kent Memorial Basketball Tournament took place Jan. 14-17 at Bolton High School. Four boys' age groups participated in the event, and two girls' brackets were formed.