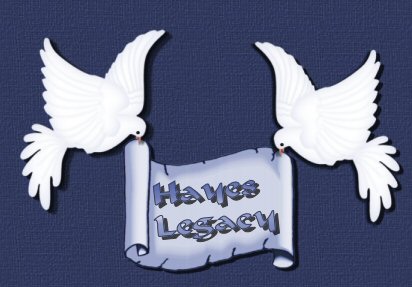 This page is to reflect on the things that have been done in Hayes' honor.
Hayes will live forever in my heart and it's a blessing to know that he
lives on in many others as well. Below are things that have been done in
Hayes' memory since his death onJanuary 27, 2002.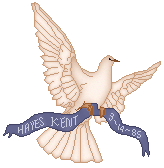 In May of 2003 we attended Bolton High School Baseball Senior Night
and they dedicated the sign below in memory of Hayes for a "LIFETIME".
Thank you Coach Scarbrough and Coach Duncan for this honor.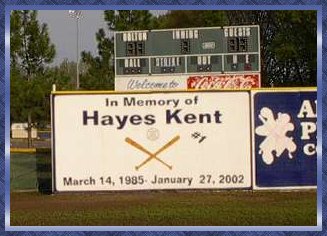 On March 24, 2006 the Bolton High School Baseball parents,
players, and coaches, created the memorial garden below
at the entrance of the baseball field. I can't think Bolton Baseball
enough for everything they do to help us keep Hayes' memory
alive. Thank you all for you hard work and dedication!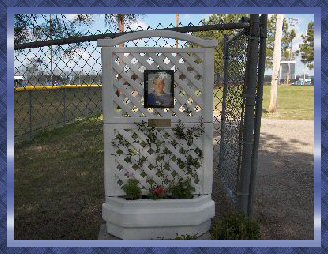 On April 23, 2016 the Bolton High School Baseball dedicated
the jersey below on the field in honor of Hayes. Thank you
Coach Yount and the entire baseball family for everything you do.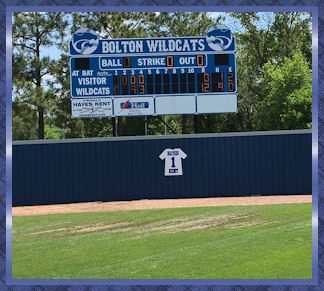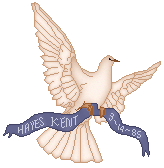 On September 6, 2003 ground breaking began for the new Sports Complex in
Arlington, TN. Field #1 was named the "Hayes Kent" field.
Below is a picture of the ground breaking cermony that Scott and I attended
and the scoreboard and monument that's on field #1.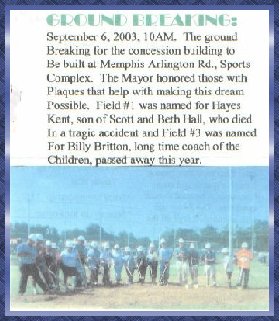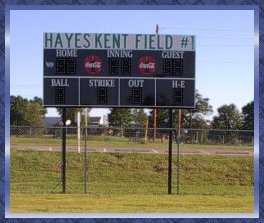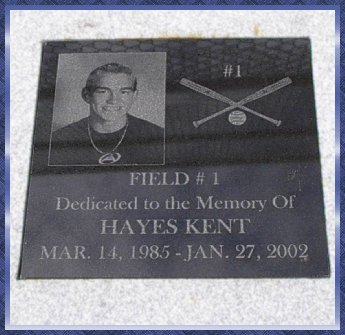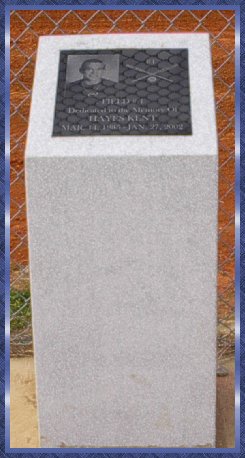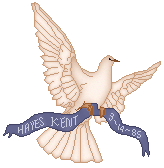 The Bolton High School Class of 2003 elected Hayes as "Most Memorable".
Thank you all so much and thank you Taeli Akins for the 2003 Class Picture,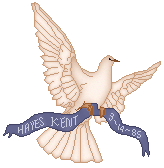 On March 1, 2004 I received an email from Tommy Barron. I don't know how he
came across Hayes' site, but he said it touched his heart. As he read through
Hayes' site he seen that Hayes wanted to become a FBI Agent. Tommy is a
captain with the Sumter County Sheriff's Department in Sumter, SC.
He sent us theletter and plaque below for Hayes' 19th birthday.
Thank you so Tommy. This means so much to us. I know God sent
you to Hayes' site! Here's the contents of the letter below:

Scott and Beth:
This is such an honor for me. I can't explain how touched I have been getting
to know your son. I can see why it hurts and why you are so proud he is your son.
I hope my 6 year old son can grow into a Hayes Kent.

I believe that God let me to the website because it has made me realize how
precious life is. I pray that God will continue to bless the family in a special way.
If your ever in South Carolina, please let me know. If there's anything that I can
do, again let me know.

Tommy Barron






On July 19, 2006 I received the following email and was so honored.
Elizabeth is such a kind and caring person. She did send me an
autographed copy of her book and Hayes' link is on her site for the
her book "Saving Graces"



----- Original Message -----
From: Elizabeth Edwards
To: beth1@hayeskent.com
Sent: Wednesday, July 19, 2006 11:04 AM
Subject: From Elizabeth Edwards

I am Elizabeth Edwards. My husband is
John Edwards, who was the Democratic
nominee for VP in 2004. I have written a
book, Saving Graces, that will be published
by Doubleday Broadway in September in
which, among other things, I talk about the
support from the online community when
our son died in a single car accident 1996.
The circumstances of our finding out about
Wade's death are so eerily similar to yours
with Hayes.

My publisher wants to put up a webpage for
the book that includes online grief resources.
I was updating my list from the website for
the Wade Edwards Learning Lab (our Field #1)
when I found your site. I would like to put it on
the book's website as an incredible example
of what a grieving family can do online. But I
know, since my husband is a politician, that
some people with different beliefs might feel
uncomfortable about any connection. I think
grief transcends that, but I will not list your site
unless you feel completely comfortable with
my doing so.

I am so very sorry for your loss and for Hayes' loss.
Elizabeth