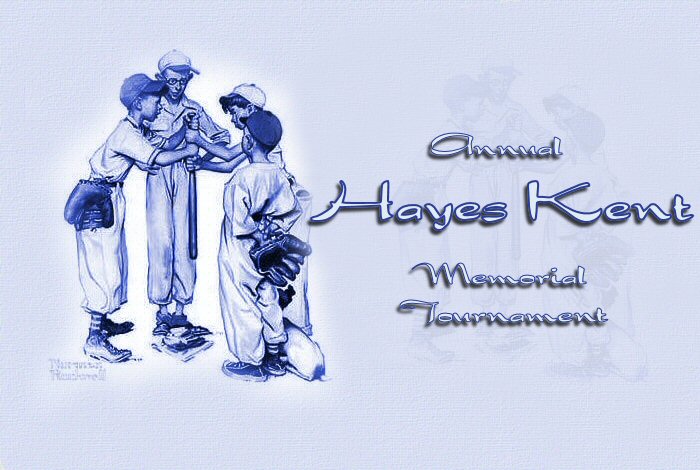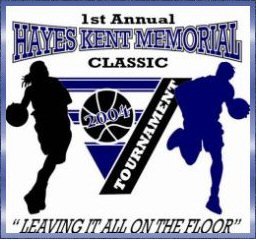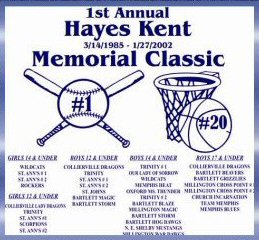 On Jan. 19, 2004 the Bolton High School Baseball Diamond Club renamed
their yearly tournament in honor of Hayes.
The tournament is now called "Hayes Kent Memorial Classic" and will be
held annually. What an honor!.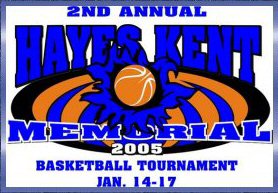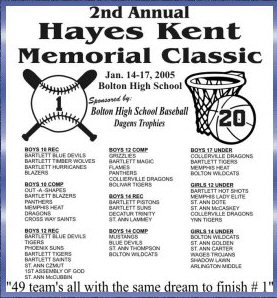 On Jan. 14 - 17 the 2nd annual Hayes Kent Memorial Tournament was held.
Thank you Bill Stevenson, Coach Scarbrough, Coach Duncan, and the entire
Bolton Baseball team and parents for all your hard work in making the
tournament a success. Please click here to read the article by the Bartlett Express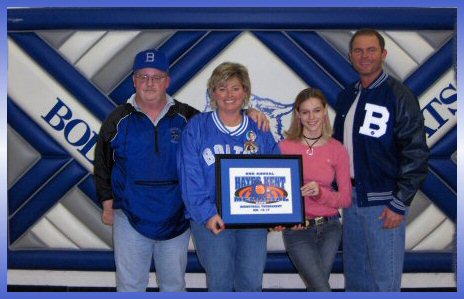 Thank you for my plaque and Scott's Letterman jacket in honor of Hayes.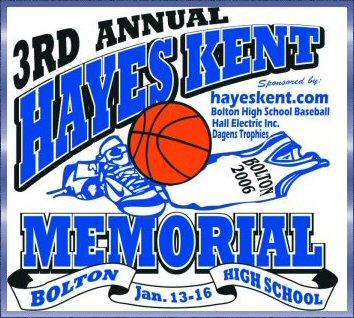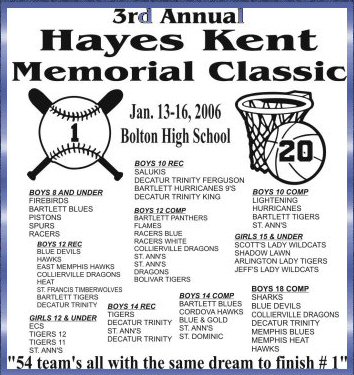 On Jan. 13 ~ 16, 2006 The 3rd Annual HayesKent Memorial Tournament was held
at Bolton High School. At the ceremony, it was announced that there will be a garden
planted by the basefield call the "Hayes Kent" Garden. I want to thank Bill Stevenson,
Coach Duncan, and the entire baseball team & parents for making this another successful
year. There were a total of 54 teams this year. It gets bigger and better each year.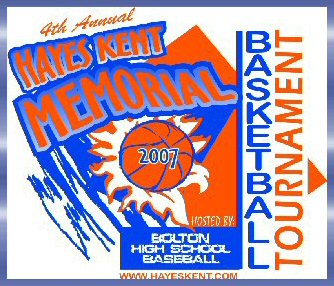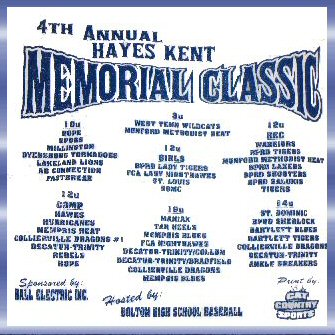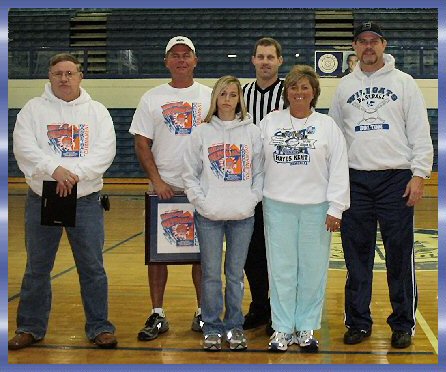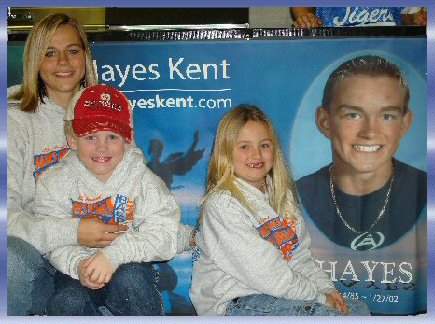 Jan. 12, 2007 ~ Jan. 15, 2007 the 4th annual Hayes Kent Memorial tournament
was held. I want to thank you all from us, Hayes' family for keeping his memory
alive and for everything you've done to honor Hayes. We're so blessed to be a
part of the Bolton High School Baseball FAMILY. You all made us feel right
at home. In the group picture below one of the key person in the tournament,
Bill Winters was left out because he was trying to be sure all the teams
were where they were suppose to be. Thank you Coach Duncan,
Rodney Spicer, Bill Winters, Bill Stevens, and all the parents and
players that spent long hours into Hayes' tournament.

Sad to say but on Jan. 13th one of Bethany's classmates,
from Arlington High School, Corbin Christensen 16 yrs. old, was
killed instantly on his way to play in Hayes' tournament. PLEASE
keep his family in your prayers!




On Jan. 18 - 21 the 5th Annual Hayes Kent Memorial Tournament was held.
I want to thank the following for their hard work and commitment in making
it such a successful tournament: Bill Winters, Rodney Spicer, Coach Godwin,
Bolton Baseball Booster Club parents and Bolton Baseball players

Click the player above to watch the dedication ceremony




The picture above is the front of the shirts and hoodies from the tournament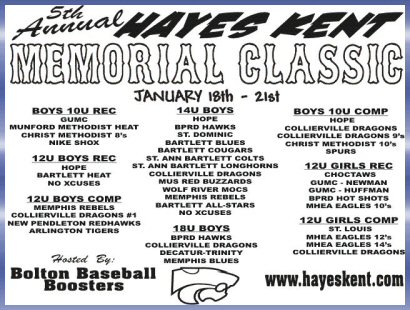 Back of shirts and hoodies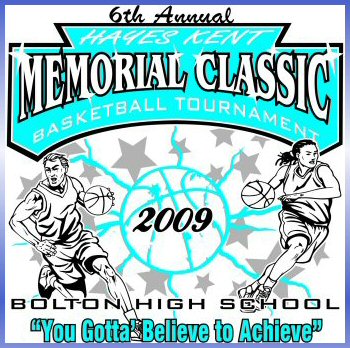 6th Annual Hayes Kent Memorial Basketball Tournament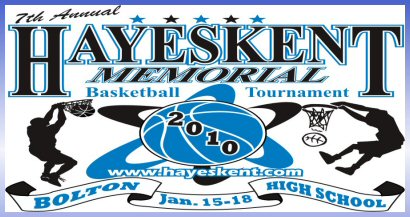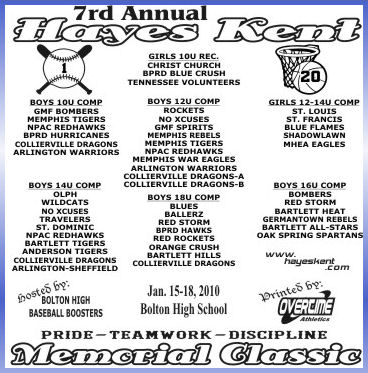 7th Annual Hayes Kent Memorial Basketball Tournament
Jan. 15 - 18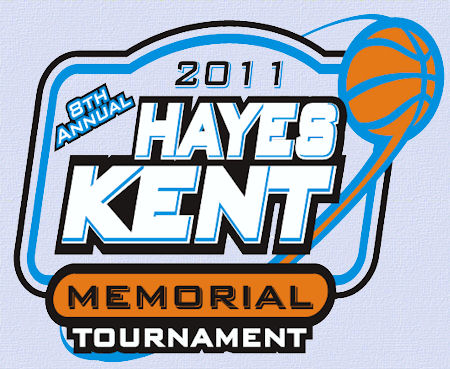 8th Annual Hayes Kent Memorial Basketball Tournament
Jan. 14 - 17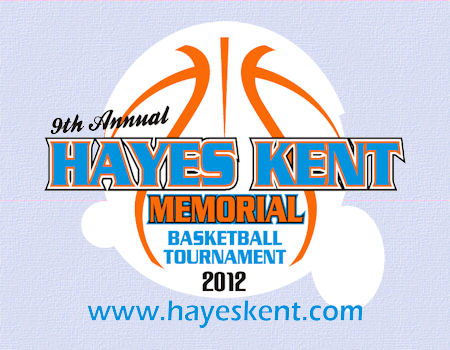 9th Annual Hayes Kent Memorial Basketball Tournament
Jan. 13 -16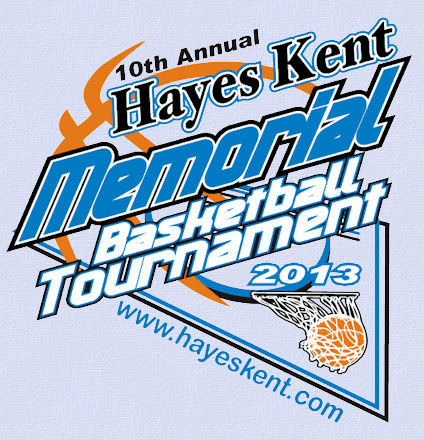 10th Annual Hayes Kent Memorial Basketball Tournament
Jan. 18 -21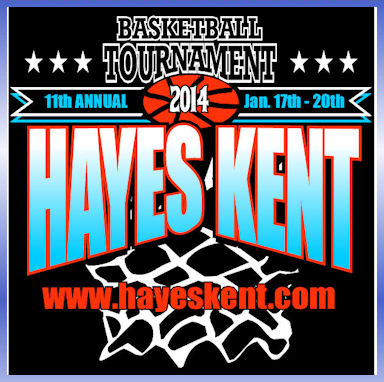 11th Annual Hayes Kent Memorial Basketball Tournament
Jan. 17 -20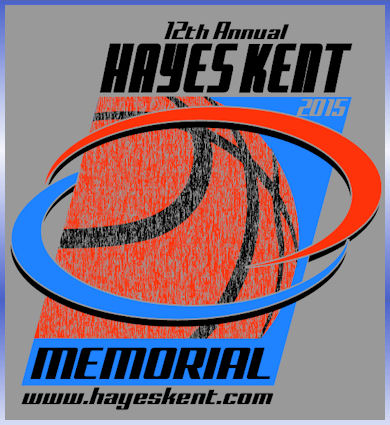 12th Annual Hayes Kent Memorial Basketball Tournament
Jan. 16 -19